Guarantee your flat roof for 10 years with our roofing services in Clitheroe and Burnley
Flat roofs date back to ancient times – a long history of quality and usability that speaks for itself. Of course new methods and technologies have superseded its original form, but flat roofs are an excellent choice for many builds including when searching for the best roofing services in Clitheroe!
At Absolute, we have invested time and resources into the best training and materials to guarantee the best results when installing flat roofs, and our methods are quick, effective, and have lasting results! If you require flat roofing services in Clitheroe, or across Lancashire, turn first to Absolute Roofing, home to the best quality and prices in the area!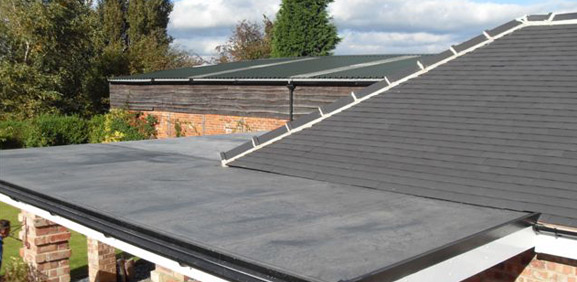 Sheds, extensions, and many other buildings can benefit from flat roofing from our roofers in Burnley and beyond.
When people think of flat roofing, they often call to mind images of smaller outbuildings, and while our team of roofers in Burnley have installed many flat roofs on to this type of structure, flat roofs can be utilised on almost any build! With our knowledge, expertise and experience, Absolute Roofing stands out as the best roofers in Burnley, whether it be for pitched or flat roofs!
We are able to provide various flat roofing services in Clitheroe and Burnley, but two of the most common types of flat roof that our roofers in Burnley install are made from bituminous felt roofing, and cladding roofing. Bituminous waterproofing systems are designed to protect residential and commercial buildings, and with this material, installed by our roofers in Burnley, your flat roof is guaranteed for at least 10 years!
Compared to other types of roof, the addition of a flat roof to your build is considerable less costly, and can be completed more quickly than a pitched roof, with extremely reliable results. This is partly due to the surface being resistant to moss and lichen, which can cause roof degradation in other types of roofing, even with the best roofing services in Clitheroe and beyond.
If you are unsure as to whether you could benefit from a flat roof from our roofers in Burnley, or if you have questions regarding any of our products and services like roof repairs in Accrington, please get in touch and we'll be happy to chat!
---