The only way is a re-roof – when roof repairs in Burnley just can't cut it!
For roofing services in Clitheroe, Absolute Roofing has the best knowledge, experience and expertise to diagnose your roofing problem, and to tackle it in the most appropriate way. Roof repairs in Burnley and elsewhere don't always require a re-roof to your home or business in order to fix the problem. Often, repairs done by our Burnley roofing company can be enough to prolong the life of your roof for years to come!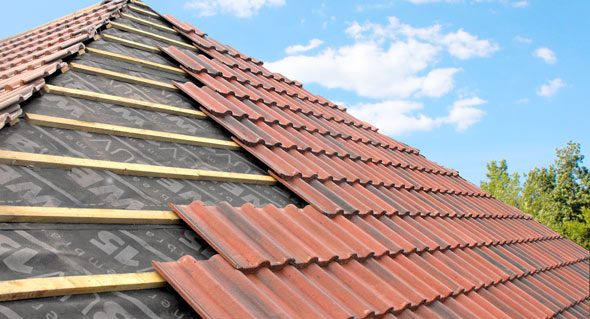 Absolute Roofing began as a small, close knit, family-run business, and this is something we have kept at the core of our business as we have grown. We always do our upmost for our customers, and this includes making fair and safe assessments of any Burnley roofing projects. If your roof repairs in Burnley are possible with our expertly skilled team, then we will ensure that these are completed efficiently, and with as little cost as possible.
However, some damage is too extensive – and unsafe – to be repaired, and in these cases, a re-roof can be necessary. With our highly accomplished professionals, our Burnley roofing team can be trusted to give your home or commercial project a new lease of life, providing roof repairs in Burnley, and roofing services in Clitheroe and beyond!
Our family legacy of providing Burnley Roofing makes us cost-effective, and trustworthy, as well as regional experts!
There are many different things to consider when weighing up the choices of repairing your existing roof or investing in a re-roof. Our trained and expert team of roofers in Clitheroe are always happy to investigate your roof problems and provide a tailored quote upon assessing what sort of repair is best for you.
As a family firm with a stack of glowing testimonials behind us, you can trust Absolute Roofing with the roof over your head. We provide honest and trustworthy assessment and advice, and any roof repairs in Burnley, or re-roofs, are carried out with professional care and integrity.
If you have concerns about the state of your roof, or if you aren't sure whether your roof repairs in Burnley are leading toward requiring re-roofing, get in touch with our friendly and reliable team, and we can provide you with a quote. Don't leave it until it's too late!
Full cost of attendance also includes books, supplies, transportation, and personal expenses, not included here, so this figure is an
https://justbuyessay.com/
underestimate
---